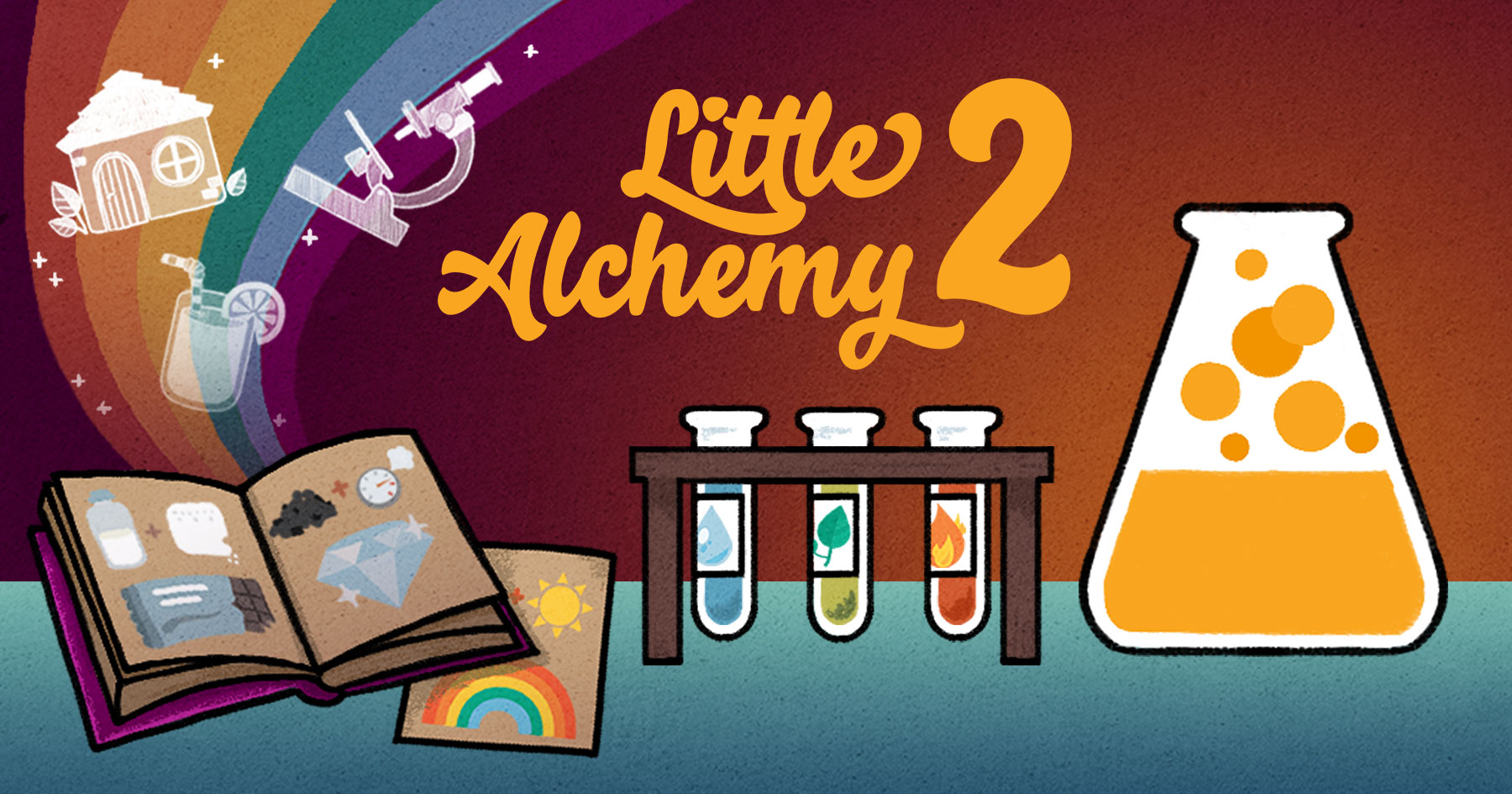 Explore the most popular theories about the process by which Earth was created to begin with, and this will help give you a head start. Most of the Earth's surface is composed of lava which has cooled, forming rocks, and a variety of rock types are usually due to the combination of heat and pressure. Water is also an important element since it is able to disintegrate a variety of substances. If you are able to get basic ingredients in place that you can mix the ingredients with ease to create various interesting combination with Little Alchemy 2. Click on the object you've created using the combination of two objects and then hold the mouse for a few seconds. It will produce a tooltip that will reveal the two things you merged to create the particular combination. This list can also provide specific information on combinations that you've found using the component, and provide you with the amount of items that you're yet to design using that component. You can double-tap the item you've set in your workspace to create the exact same item without having to go across your entire list.
One of the first mixtures that you can create is air with air (or earth and earth) in order to create pressure. Contrary to the first Little Alchemy, air plus fire is now producing smoke. In order to create energy, it is necessary to combine fire and. Pressure and air create wind and there are many other outcomes you can achieve from that point.
The complete list of elements is available below.

list for information about any of those expansions).
| | |
| --- | --- |
| Resulting Element | Ingredient Combination(s) |
| Acid Rain | rain, smoke / rain, smog / rain, sickness / cloud, smoke / cloud, smog / cloud, sickness / rain, city |
| Air | Available from start. |
| Airplane | metal, bird / steel, bird / bird, machine / bird, steam engine / bird, train / bird, car / bird, boat / bird, steamboat / bird, sailboat / metal, owl / steel, owl / steam engine, owl / metal, vulture / steel, vulture / metal, duck / steel, duck / metal, seagull / steel, seagull / metal, bat / steel, bat / metal, eagle / steel, eagle / steel, pigeon / metal, pigeon / metal, hummingbird / steel, hummingbird / metal, crow / steel, crow / owl, machine / vulture, machine / duck, machine / seagull, machine / bat, machine / eagle, machine / pigeon, machine / hummingbird, machine / crow, machine / pilot, container |
| Alarm Clock | clock, sound / clock, dawn / clock, bell / sound, watch / watch, dawn / watch, bell |
| Alchemist | human, gold / gold, philosophy |
| Alcohol | time, juice / wheat, fruit / wheat, juice / fruit, sun |
| Algae | water, plant / grass, pond / grass, lake / water, grass |
| Alien | life, space / life, galaxy / life, galaxy cluster / life, solar system / life, Mars / life, Venus / life, Mercury / life, Jupiter / life, Saturn |
| Allergy | dust, human / human, pollen |
| Alligator | lizard, river / swamp, lizard / lizard, lake |
| Alpaca | mountain, sheep / sheep, mountain range / sheep, mountain goat |
| Ambulance | car, hospital / car, doctor |
| Angel | bird, human / human, light |
| Angler | human, fishing rod / sailor, fishing rod |
| Animal | life, land / life, forest / life, mountain / life, mountain range / life, beach / life, desert |
| Ant | grass, animal / grass, spider |
| Ant Farm | farm, ant / ant, jar / glass, ant / farm, anthill / jar, anthill / farm, anthill |
| Antarctica | desert, snow / desert, ice / snow, continent / ice, continent |
| Anthill | house, ant / ant, container / ant, hill / earth, ant / ant, land / ant, soil |
| Apron | fabric, cook / baker, fabric |
| Aquarium | water, glass / glass, fish / glass, puddle / glass, pond / fish, container / small, swimming pool |
| Archeologist | human, ruins / ruins, science |
| Archipelago | island, island / sea, island / ocean, island |
| Arctic | ocean, cold / sea, cold |
| Armadillo | animal, armor / armor, dog / armor, cat |
| Armor | metal, fabric / steel, fabric |
| Arrow | bullet, wood / wood, bow |
| Ash | fire, mineral / fire, plant / fire, tree / water, campfire / time, campfire / rain, campfire / storm, campfire / fire, grass / phoenix, paper / campfire, paper / fire, paper / sun, vampire / vampire, dawn |
| Astronaut | human, space / human, spaceship / human, space station / human, rocket / human, moon / human, Mars / human, solar system / human, Mercury / human, Jupiter / human, Saturn / human, Venus / human, moon rover |
| Atmosphere | air, planet / air, sky |
| Atomic Bomb | energy, explosion / explosion, big / explosion, explosion |
| Aurora | electricity, atmosphere / electricity, Antarctica / sky, Antarctica / sky, electricity / electricity, arctic / sky, arctic / sun, atmosphere |
| Avalanche | earthquake, snow / wave, glacier / earthquake, glacier / earthquake, mountain / wave, mountain / earthquake, mountain range / wave, mountain range / glacier, sound / mountain, sound / gun, glacier / gun, mountain / gun, mountain range |
| Axe | blade, wood / tool, wood / stone, wood / tool, lumberjack |
| Bacon | fire, pig / campfire, pig / fire, ham / campfire, ham |
| Bacteria | life, primordial soup / life, small / mud, life |
| Baker | human, bakery / human, bread / human, banana bread / human, pizza / human, toast / human, batter / human, pie / human, donut / human, cookie / human, cookie dough / human, dough |
| Bakery | house, bread / house, baker / house, donut / house, cake / bread, city / baker, city / city, donut / city, cake / bread, village / baker, village / village, donut / village, cake / baker, container |
| Banana | fruit, monkey |
| Banana Bread | bread, banana / dough, banana |
| Bandage | blood, fabric / sword, fabric / blade, fabric |
| Bank | house, gold / skyscraper, gold / house, safe / skyscraper, safe / house, money / skyscraper, money / city, gold / city, safe / city, money / money, container / house, vault |
| Barn | house, cow / house, livestock / house, hay / house, farm / field, house / livestock, container / cow, container / horse, container / pig, container / hay, container / house, sheep / sheep, container / hay bale, container / house, goat / goat, container |
| Bat | sky, mouse / air, mouse / atmosphere, mouse / bird, mouse / mouse, hummingbird |
| Batter | milk, flour / flour, coconut milk |
| Battery | electricity, container / energy, container / electricity, mineral / electricity, ore |
| Bayonet | blade, gun / gun, sword / axe, gun |
| BBQ | metal, campfire / steel, campfire / campfire, garden / campfire, house / campfire, meat |
| Beach | ocean, sand / sea, sand / sand, lake / water, sand / sand, wave |
| Beaver | wood, animal / animal, dam / animal, river / animal, stream |
| Bee | animal, flower / animal, garden |
| Beehive | house, bee / tree, bee / forest, bee / wall, bee / wood, bee / bee, container |
| Beekeeper | human, beehive / farmer, beehive / human, bee / farmer, bee |
| Beer | wheat, alcohol |
| Bell | metal, sound / steel, sound / wood, sound / metal, hammer / steel, hammer |
| Bicycle | wheel, wheel / wheel, chain / wheel, machine |
| Big | universe, philosophy / galaxy, philosophy / galaxy cluster, philosophy / solar system, philosophy / sun, philosophy / planet, philosophy |
| Bird | sky, animal / air, animal / animal, airplane / sky, egg / air, egg / egg, airplane / time, dinosaur / time, pterodactyl |
| Birdcage | bird, container / bird, wall / bird, safe |
| Birdhouse | bird, house / bird, wall / egg, container |
| Black Hole | pressure, star / pressure, sun / star, darkness / sun, darkness |
| Blade | stone, metal / stone, steel / metal, rock / steel, rock |
| Blender | glass, blade / blade, electricity / blade, windmill / blade, wind turbine / blade, motion |
| Blizzard | storm, snow / snow, hurricane / tornado, snow / wind, snow / snow, snow / snow, big |
| Blood | human, blade / sword, warrior |
| Blood Bag | blood, container / blood, sack / blood, bottle |
| Boat | water, wood / ocean, wood / sea, wood / wood, lake / wood, river |
| Boiler | pressure, metal / pressure, tool / steam, metal / steam, tool / pressure, container |
| Bone | time, corpse / corpse, vulture / corpse, wolf / meat, wolf / meat, vulture |
| Bonsai Tree | tree, scissors / tree, pottery / tree, small / tree, wire |
| Book | paper, legend / wood, paper / newspaper, newspaper / story, container / fairy tale, container / legend, container / idea, container |
| Bottle | milk, container / water, container / coconut milk, container / juice, container / oil, container / alcohol, container / wine, container / beer, container / chocolate milk, container / soda, container / perfume, container / liquid, container |
| Boulder | big, rock / small, hill / rock, rock / stone, rock / earth, rock / stone, big |
| Bow | wood, rope / wood, wire |
| Box | pizza, container / pencil, container / cookie, container / cereal, container / donut, container / cake, container / crayon, container |
| Bread | fire, dough / dough, warmth / energy, dough |
| Brick | fire, mud / mud, sun / fire, clay / clay, sun / stone, clay |
| Bridge | wood, river / metal, river / steel, river / wood, stream / metal, stream / steel, stream |
| Broom | wood, hay |
| Bucket | wood, container / yogurt, container / river, bottle / paint, container / paint, bottle / chicken wing, container / chicken wing, box |
| Bullet | gunpowder, metal / gunpowder, steel / gunpowder, tool / gunpowder, container |
| Bulletproof Vest | bullet, armor / gun, armor |
| Bus | car, car / train, car / car, city / car, big |
| Butcher | human, meat / human, ham |
| Butter | pressure, milk / energy, milk / milk, motion / tool, milk |
| Butterfly | animal, flower / animal, garden / rainbow, animal / double rainbow!, animal |
| Butterfly Net | butterfly, net / bee, net |
| Cable Car | car, mountain / wire, mountain / car, mountain range / wire, mountain range / mountain, rope / rope, mountain range |
| Cactus | plant, sand / sand, tree / plant, desert / tree, desert |
| Cage | metal, wolf / steel, wolf / wolf, wall / metal, fox / steel, fox / wall, fox / metal, lion / steel, lion / wall, lion / hamster, container / house, hamster / wall, hamster |
| Cake | dough, candle / donut, candle / bread, sugar |
| Camel | desert, horse / desert, animal / livestock, desert / cow, desert / desert, saddle / desert, horseshoe / sand, horse / sand, livestock / sand, cow / dune, horse / livestock, dune / cow, dune / animal, dune |
| Campfire | fire, wood / wood, flamethrower |
| Candle | thread, wax / fire, wax / light, wax / flashlight, wax / lamp, wax |
| Candy Cane | Christmas tree, sugar / sugar, Christmas stocking / sugar, Santa / sugar, reindeer |
| Cannon | gunpowder, pirate ship / gunpowder, castle / gun, castle / gun, pirate ship |
| Canvas | fabric, paint |
| Car | metal, wheel / steel, wheel / bicycle, bicycle / wheel, bicycle / motorcycle, motorcycle / wheel, motorcycle / motorcycle, machine / wagon, combustion engine / cart, combustion engine |
| Caramel | sugar, heat |
| Carbon Dioxide | human, oxygen / plant, night / tree, night / grass, night / animal, oxygen / fish, oxygen / bird, oxygen |
| Carrot | snowman, vegetable / sun, snowman / grass, vegetable / garden, vegetable |
| Cart | wood, wheel |
| Cashmere | tool, mountain goat / thread, mountain goat / fabric, mountain goat / scissors, mountain goat / wool, mountain goat |
| Castle | stone, knight / knight, wall / house, knight / stone, warrior / warrior, wall / house, warrior / knight, container / house, vampire / vampire, wall / monarch, container / house, monarch / wall, monarch |
| Cat | milk, animal / animal, coconut milk / night, animal |
| Catnip | plant, cat / grass, cat / cat, flower |
| Cauldron | metal, witch / steel, witch / fireplace, witch / campfire, witch / metal, pottery / steel, pottery |
| Cave | house, wolf / house, lion / house, fox / house, bat / bat, container / wolf, container / lion, container / fox, container |
| Caviar | roe, salt / roe, cook |
| Centaur | human, horse / horse, story |
| Cereal | milk, wheat / wheat, chocolate milk / wheat, coconut milk |
| Chain | metal, rope / steel, rope / metal, wire / steel, wire |
| Chainsaw | axe, machine / axe, electricity / lumberjack, machine / lumberjack, electricity / axe, motion |
| Chameleon | lizard, rainbow / lizard, double rainbow! / rainbow, snake / double rainbow!, snake / turtle, rainbow / turtle, double rainbow! |
| Charcoal | fire, wood / fire, tree / fire, corpse / fire, organic matter |
| Cheese | tool, milk / time, milk / milk, cook / milk, bacteria |
| Cheeseburger | cheese, hamburger / cheese, sandwich |
| Chicken | bird, domestication / bird, livestock / bird, farmer / egg, domestication / egg, livestock / egg, farmer / bird, barn / egg, barn / bird, farm / egg, farm |
| Chicken Coop | house, chicken / chicken, wall / chicken, barn / chicken, container |
| Chicken Soup | water, chicken / water, chicken wing / chicken, liquid / chicken wing, liquid |
| Chicken wing | chicken, bone / chicken, BBQ |
| Chill | air, cold / human, cold / human, ice |
| Chimney | house, fireplace / smoke, brick / fireplace, brick / smoke, fireplace / house, smoke / stone, smoke / stone, fireplace |
| Chocolate | milk, sugar / oil, sugar / sugar, seed / coconut milk |
| Chocolate Milk | milk, chocolate / coconut milk, chocolate |
| Christmas Stocking | fireplace, wool / Christmas tree, wool / wool, reindeer / wool, Santa |
| Christmas Tree | tree, light bulb / tree, star / tree, candle / tree, light / tree, gift |
| Cigarette | tobacco, paper |
| City | village, village / skyscraper, skyscraper / village, skyscraper / skyscraper, container / bank, container / skyscraper, bank / bank, post office / skyscraper, post office / village, big |
| Clay | mud, sand / stone, liquid / sand, mineral / liquid, rock / stone, mineral / rock, mineral / mud, stone |
| Clock | time, electricity / time, wheel / time, tool / time, machine / sundial, machine / tool, sundial / wheel, sundial / electricity, sundial / cuckoo, container / watch, big |
| Closet | broom, container / container, toolbox / umbrella, container / vacuum cleaner, container / robot vacuum, container |
| Cloud | atmosphere, mist / water, atmosphere / sky, mist / water, sky |
| Coal | pressure, organic matter / earth, peat / stone, peat / rock, peat / time, peat / pressure, peat |
| Coconut | fruit, palm / palm, nuts / palm, vegetable / meat, palm / fruit, beach / beach, vegetable |
| Coconut Milk | milk, coconut / tool, coconut / coconut, hammer / sword, coconut / blade, coconut / axe, coconut |
| Coffin | wood, corpse / corpse, container / vampire, container |
| Cold | rain, human / human, mountain range / human, mountain / human, snow / wind, human / storm, human / space, thermometer |
| Combustion Engine | machine, petroleum / steam engine, petroleum / wheel, petroleum / explosion, machine / explosion, steam engine |
| Computer | tool, hacker / electricity, hacker / wire, hacker / hacker, machine / email, container |
| Computer Mouse | computer, mouse / animal, computer |
| Confetti | paper, scissors / blade, paper |
| Constellation | star, star |
| Container | safe, philosophy / pottery, philosophy / house, philosophy / philosophy, box / philosophy, bottle / philosophy, bucket |
| Continent | big, land / land, land / mountain range, mountain range / earth, land |
| Cook | human, fruit / human, campfire / human, vegetable / human, nuts |
| Cookbook | recipe, recipe / book, cook |
| Cookie | cookie dough, heat / fire, cookie dough / baker, cookie dough / cookie dough, cookie cutter / dough, cookie cutter |
| Cookie Cutter | blade, dough / blade, cookie dough |
| Cookie Dough | dough, sugar / dough, chocolate / dough, cookie |
| Coral | ocean, tree / sea, tree / ocean, fossil / sea, fossil / ocean, bone / sea, bone |
| Corpse | bullet, human / human, blade / human, death / human, grim reaper / time, human / explosion, human / human, arrow |
| Cotton | cloud, plant / plant, fabric / plant, thread / plant, wool / plant, sheep |
| Cotton Candy | air, sugar / sugar, thread / cloud, sugar |
| Cow | livestock, barn / field, livestock / livestock, grass / farmer, livestock |
| Crayon | rainbow, pencil / double rainbow!, pencil / rainbow, wax / double rainbow!, wax / pencil, paint / wax, paint |
| Crow | bird, scarecrow / bird, field / scarecrow, pigeon / field, pigeon / owl, scarecrow / field, owl / scarecrow, hummingbird / field, hummingbird |
| Crystal Ball | glass, witch / glass, wizard / glass, magic / witch, snow globe / wizard, snow globe / snow globe, magic |
| Cuckoo | bird, clock / clock, owl / clock, hummingbird / bird, alarm clock / owl, alarm clock / alarm clock, hummingbird |
| Cup | smoothie, container / tea, container / milkshake, container / smoothie, bottle / tea, bottle / milk shake, bottle |
| Current | ocean, motion / sea, motion / ocean, heat / sea, heat / ocean, cold / sea, cold / ocean, science / sea, science |
| Cutting Board | wood, cook |
| Cyborg | human, robot / engineer, robot / lumberjack, robot / robot, sailor / robot, baker / robot, cook / doctor, robot / farmer, robot / firefighter, robot / robot, pilot / astronaut, robot / electrician, robot |
| Cyclist | human, bicycle / human, wheel |
| Dam | beaver, river / wall, river / tree, beaver / beaver, stream / wall, stream / house, beaver / beaver, lake / water, beaver |
| Darkness | sky, night / sky, twilight |
| Dawn | time, night / day, night |
| Day | sky, sun / sun, night / time, sun / time, dawn |
| Death | time, life / corpse, philosophy / skeleton, philosophy / grave, philosophy / graveyard, philosophy |
| Desert | sand, sand / sand, land / sand, cactus / sand, lizard / sand, vulture |
| Dew | grass, fog / water, grass / plant, fog / tree, fog / grass, dawn / plant, dawn / tree, dawn / water, dawn / fog, dawn |
| Diamond | pressure, coal |
| Dinosaur | time, lizard / lizard, big |
| Diver | human, scuba tank / swimmer, scuba tank / ocean, scuba tank / sea, scuba tank / lake, scuba tank |
| Doctor | human, hospital / human, stethoscope |
| Dog | wolf, domestication / farmer, wolf / wolf, farm / barn, wolf / field, wolf / wolf, bone / campfire, wolf |
| Doge | dog, internet / dog, computer |
| Doghouse | house, dog / dog, wall / dog, container / house, husky / wall, husky / husky, container |
| Domestication | farmer, animal / human, animal / animal, science / farmer, science |
| Don Quixote | windmill, knight / windmill, story / windmill, legend / windmill, hero |
| Donut | dough, oil / oil, cookie dough / wheel, dough / wheel, cookie dough |
| Double Rainbow! | rainbow, rainbow |
| Dough | water, flour / flour, puddle / rain, flour |
| Dragon | fire, lizard / air, lizard / sky, lizard / lizard, airplane / lizard, legend / lizard, story |
| Drone | airplane, robot / robot, helicopter / robot, paper airplane / robot, seaplane |
| Drum | wood, leather / wood, fabric / wood, music |
| Drunk | human, alcohol / human, wine / human, beer |
| Dry Ice | cold, carbon dioxide / ice, carbon dioxide |
| Duck | water, bird / bird, pond / bird, lake / time, duckling / duckling, big / water, owl / owl, pond / owl, lake / water, pigeon / pond, pigeon / pigeon, lake / water, chicken / chicken, pond / chicken, lake |
| Duckling | egg, duck |
| Dune | wind, desert / wind, sand / wind, beach / sand, desert / desert, sandstorm |
| Dust | earth, air / air, soil / air, land |
| Dynamite | gunpowder, wire / gunpowder, pipe / gunpowder, container |
| Eagle | bird, mountain / bird, mountain range |
| Earth | Available from start. |
| Earthquake | earth, motion / motion, continent |
| Eclipse | moon, sun |
| Egg | bird, bird / turtle, turtle / lizard, lizard / vulture, vulture / phoenix, phoenix / chicken, chicken / dragon, dragon / penguin, penguin / owl, owl / dinosaur, dinosaur / duck, duck / seagull, seagull / eagle, eagle / scorpion, scorpion / spider, spider / pigeon, pigeon / fish, fish / piranha, piranha / parrot, parrot / peacock, peacock / hummingbird, hummingbird / chameleon, chameleon / ostrich, ostrich / woodpecker, woodpecker / bee, bee / crow, crow / frog, frog / pterodactyl, pterodactyl / ant, ant / tyrannosaurus rex, tyrannosaurus rex / moth, moth / life, container / butterfly, butterfly / snake, snake / flying fish, flying fish |
| Egg Timer | egg, clock / egg, alarm clock / egg, watch |
| Electric Car | electricity, car / electricity, wagon / car, wind turbine / wagon, wind turbine / solar cell, car / solar cell, wagon |
| Electric Eel | fish, electricity |
| Electrician | human, electricity / human, wire |
| Electricity | wind, wind turbine / wind turbine, motion / storm, wind turbine / sandstorm, wind turbine / sun, solar cell / light, solar cell / solar cell, star / metal, lightning / steel, lightning / storm, science |
| Email | computer, letter / letter, internet / letter, computer mouse / electricity, letter |
| Energy | fire, atmosphere / fire, science / heat, science / fire, fire |
| Engineer | human, machine / human, steam engine |
| Eruption | pressure, volcano / lava, pressure / volcano, time |
| Excalibur | stone, sword / sword, legend / sword, story / sword, monarch / sword, lake / sword, fairy tale |
| Explosion | fire, gunpowder / gunpowder, electricity / gunpowder, lightning / pressure, volcano / fire, petroleum / explosion, petroleum / pressure, petroleum / heat, petroleum / lava, petroleum / volcano, petroleum |
| Fabric | thread, machine / tool, thread / wheel, thread |
| Fairy Tale | story, monarch / story, castle / knight, story / dragon, story / unicorn, story |
| Family | human, human / human, house / love, container |
| Family tree | tree, family / tree, village / time, family |
| Farm | farmer, house / farmer, barn / house, barn / farmer, container / house, tractor |
| Farmer | plant, human / human, grass / human, pitchfork / human, field / human, barn / human, plow |
| Faun | human, goat / human, mountain goat / goat, legend / mountain goat, legend / goat, wizard / wizard, mountain goat / goat, magic / mountain goat, magic |
| Fence | wood, wall / wood, field / field, wall / grass, wall / garden, wall / wood, garden |
| Field | earth, farmer / farmer, land / earth, tool / tool, land / earth, plow / land, plow / farmer, soil / tool, soil / soil, plow |
| Fire | fire, alcohol / fire, coal |
| Fire Extinguisher | fire, carbon dioxide / pressure, carbon dioxide / metal, carbon dioxide / steel, carbon dioxide / boiler, carbon dioxide |
| Firefighter | fire, human / human, firetruck / human, fire extinguisher |
| Fireplace | campfire, house / campfire, brick / campfire, wall / wood, container / campfire, container |
| Firestation | house, firefighter / house, firetruck / firefighter, land / firefighter, village / firefighter, city |
| Firetruck | firefighter, car / firefighter, wagon / fire, car / fire, wagon / car, fire extinguisher / wagon, fire extinguisher |
| Fireworks | sky, explosion / explosion, atmosphere |
| Fish | water, animal / animal, lake / sea, animal / ocean, animal / water, egg / egg, lake / sea, egg / ocean, egg |
| Fishing Rod | tool, fish / wood, fish / fish, wire / tool, swordfish / wood, swordfish / wire, swordfish / tool, piranha / wood, piranha / wire, piranha / fish, thread / swordfish, thread / piranha, thread |
| Flamethrower | fire, gun / volcano, gun / campfire, gun |
| Flashlight | tool, light / tool, light bulb / human, lamp / tool, lamp |
| Flood | rain, rain / rain, river / rain, lake / rain, big / rain, time / house, river / river, city / tsunami, city / house, tsunami |
| Flour | wheat, wheat / stone, wheat / wheat, windmill / wheel, wheat / wheat, rock |
| Flower | plant, garden / grass, garden / grass, seed / garden, seed / plant, rainbow / plant, double rainbow! / grass, rainbow / grass, double rainbow! |
| Flute | wind, wood / air, wood |
| Flying Fish | bird, fish / sky, fish / air, fish |
| Flying Squirrel | bird, squirrel / squirrel, hummingbird / squirrel, pigeon / seagull, squirrel / air, squirrel / airplane, squirrel / squirrel, seaplane / squirrel, helicopter |
| Fog | earth, cloud / cloud, hill / cloud, mountain / cloud, city / cloud, field / cloud, forest |
| Force Knight | human, light sword / warrior, light sword / knight, light sword |
| Forest | tree, tree / plant, tree / tree, land / earth, tree / tree, container |
| Fortune Cookie | paper, cookie / paper, cookie dough / paper, gingerbread man |
| Fossil | earth, dinosaur / stone, dinosaur / dinosaur, rock / time, dinosaur / time, bone / earth, bone / stone, bone / stone, corpse / time, grave / bone, rock / corpse, rock / earth, skeleton / stone, skeleton / skeleton, rock / time, skeleton |
| Fountain | water, statue / statue, stream |
| Fox | chicken, animal / chicken, wolf / chicken, dog / wolf, chicken coop / animal, chicken coop / dog, chicken coop |
| Frankenstein's Monster | corpse, legend / corpse, lightning / corpse, electricity / corpse, story / zombie, electricity / zombie, lightning / story, monster / corpse, monster / story, monster / corpse, monster |
| French Fries | oil, vegetable / oil, potato / fire, potato |
| Fridge | metal, cold / steel, cold / cold, machine / metal, ice / steel, ice / electricity, cold / cold, container / ice, container / ice cream, container |
| Frog | animal, pond / egg, pond / egg, puddle / animal, puddle |
| Frozen Yogurt | cold, yogurt / ice, yogurt |
| Fruit | time, flower / water, flower / rain, flower / tree, flower / tree, farmer / farmer, orchard |
| Fruit Tree | tree, fruit / wood, fruit / plant, fruit |
| Galaxy | solar system, solar system / star, star / star, solar system / space, space / space, solar system / star, space / solar system, container / supernova, container / star, container |
| Galaxy Cluster | galaxy, galaxy / galaxy, container |
| Garage | house, car / house, ambulance / house, motorcycle / house, bus / car, container / ambulance, container / motorcycle, container / bus, container / car, wall / wall, ambulance / wall, motorcycle / wall, bus / barn, car / barn, ambulance / barn, motorcycle / barn, bus / house, sleigh / sleigh, container / wall, sleigh / barn, sleigh / house, electric car / electric car, container / wall, electric car / barn, electric car / house, snowmobile / snowmobile, container / wall, snowmobile / barn, snowmobile / house, tractor / tractor, container / wall, tractor / barn, tractor / house, RV / RV, container / wall, RV / barn, RV / house, ice cream truck / ice cream truck, container / wall, ice cream truck / barn, ice cream truck |
| Garden | plant, grass / plant, house / flower, flower / grass, flower / plant, flower / house, flower / flower, lawn / plant, lawn / flower, container |
| Gardener | human, garden / farmer, garden |
| Gas | air, idea / air, science / energy, liquid |
| Geyser | earth, steam / steam, hill / steam, mountain / steam, pressure |
| Ghost | graveyard, night / grave, night / night, gravestone / night, castle / graveyard, story / graveyard, legend / grave, legend / grave, story / gravestone, legend / gravestone, story / night, story / night, legend |
| Gift | Christmas tree, Santa / Santa, Christmas stocking / Santa, chimney / fireplace, Santa / cookie, Santa / milk, Santa / Santa, wrapping paper / Christmas tree, wrapping paper / Christmas stocking, wrapping paper / fireplace, wrapping paper |
| Gingerbread House | house, gingerbread man / house, dough / house, cookie dough / house, cookie / house, donut / house, cake |
| Gingerbread Man | life, dough / dough, magic / life, cookie / cookie, magic / story, cookie / life, cookie dough / cookie dough, magic / story, cookie dough / dough, story |
| Glacier | ice, mountain / snow, mountain / ice, mountain range / snow, mountain range / time, ice |
| Glass | fire, sand / sand, heat / sand, electricity / sand, lightning |
| Glasses | glass, metal / glass, steel / glass, glass / glass, human / human, lens / lens, lens |
| Gnome | garden, statue / garden, story / garden, fairy tale / garden, legend |
| Goat | livestock, mountain / livestock, hill / livestock, mountain range / cow, mountain / cow, hill / cow, mountain range |
| Gold | metal, sun / steel, sun / metal, rainbow / steel, rainbow / metal, butter / steel, butter / sand, metal / sand, steel / metal, light / steel, light / metal, alchemist / steel, alchemist |
| Golem | clay, story / clay, legend / life, statue / story, statue / statue, legend |
| Granite | lava, pressure / pressure, stone / pressure, rock |
| Grass | earth, plant / plant, land |
| Grave | earth, coffin / field, coffin / earth, corpse / field, corpse / forest, corpse / forest, coffin / grave, gravestone / coffin, gravestone / coffin, container |
| Gravestone | stone, grave / grave, rock / stone, death / rock, death / stone, graveyard / graveyard, rock |
| Graveyard | grave, grave / field, grave / grave, land / gravestone, gravestone / field, gravestone / gravestone, land / gravestone, container |
| Greenhouse | plant, glass / glass, grass / glass, tree / plant, aquarium / aquarium, grass / aquarium, tree / plant, container / glass, garden |
| Grenade | explosion, metal / explosion, steel / explosion, warrior |
| Grilled Cheese | cheese, toast |
| Grim Reaper | human, scythe / corpse, scythe / zombie, scythe / scythe, death / boat, scythe / scythe, river / death, deity / death, deity |
| Gun | metal, bullet / bullet, steel / metal, bow / steel, bow / bullet, bow / gunpowder, bow / bullet, container |
| Gunpowder | charcoal, mineral / fire, dust / energy, mineral / energy, charcoal / energy, dust |
| Gust | wind, small / air, small |
| Hacker | human, computer / human, computer mouse / human, glasses / human, internet |
| Hail | cloud, ice / rain, ice / storm, ice / wind, ice / steam, ice / sky, ice |
| Ham | meat, smoke / smoke, pig |
| Hamburger | bread, meat / cheese, meat |
| Hammer | metal, tool / steel, tool / stone, tool / tool, rock / tool, woodpecker |
| Hamster | wheel, mouse / mouse, domestication / rat, domestication / wheel, rat |
| Hangar | airplane, container / house, airplane / airplane, wall / airplane, barn / seaplane, container / house, seaplane / wall, seaplane / barn, seaplane / helicopter, container / house, helicopter / wall, helicopter / barn, helicopter / rocket, container / house, rocket / wall, rocket / barn, rocket / spaceship, container / house, spaceship / wall, spaceship / barn, spaceship |
| Harp | angel, music / angel, musician / wire, angel / wire, music |
| Hay | grass, scythe / farmer, grass / grass, sun / grass, grass / grass, barn / grass, farm / grass, pitchfork / barn, pitchfork / pitchfork, farm / farmer, pitchfork |
| Hay Bale | hay, hay / hay, tractor / barn, hay / hay, machine |
| Heat | fire, idea / fire, science / lava, philosophy / air, energy |
| Hedge | plant, fence / leaf, fence / garden, fence / plant, wall / wall, leaf / garden, wall |
| Hedgehog | animal, needle / mouse, needle / needle, rat |
| Helicopter | blade, airplane / windmill, airplane / airplane, wind turbine / blade, seaplane / windmill, seaplane / seaplane, wind turbine |
| Hero | human, legend / dragon, knight / human, story / human, lightning |
| Hill | big, boulder / mountain, small / earth, boulder / stone, boulder / boulder, boulder |
| Hippo | horse, river / water, horse / cow, river / water, cow |
| Honey | flower, bee / bee, beehive / time, bee / bee, bee / beehive, beekeeper |
| Horizon | earth, sky / sky, continent / sky, land / ocean, sky / sea, sky / sky, lake |
| Horse | field, animal / livestock, hay / animal, land / livestock, barn / livestock, horseshoe / animal, horseshoe / animal, saddle / livestock, saddle |
| Horseshoe | metal, horse / steel, horse |
| Hospital | house, sickness / house, ambulance / house, doctor / sickness, wall / wall, ambulance / doctor, wall / doctor, container |
| Hot Chocolate | chocolate milk, heat / chocolate, heat |
| Hourglass | sand, glass / sand, time / glass, time / sand, container / time, container |
| House | wall, wall / human, wall / tool, wall / fireplace, container / family, container |
| Human | time, animal / life, clay / time, monkey / tool, animal / tool, monkey |
| Hummingbird | bird, flower / owl, flower / pigeon, flower / seagull, flower / bird, garden / owl, garden / garden, pigeon / garden, seagull / bird, small / bird, bee / bird, butterfly |
| Hurricane | ocean, tornado / sea, tornado / ocean, storm / sea, storm |
| Husky | snow, dog / ice, dog / Antarctica, dog / dog, arctic / blizzard, dog / dog, glacier |
| Ice | water, cold / water, solid / cold, puddle / puddle, solid |
| Ice Cream | milk, cold / milk, ice / milk, snow |
| Ice Cream Truck | car, ice cream / ice cream, bus / ice cream, wagon |
| Ice Sculpture | ice, statue |
| Iceberg | sea, ice / ocean, ice / sea, Antarctica / ocean, Antarctica / sea, arctic / ocean, arctic |
| Iced Tea | ice, tea / cold, tea / snow, tea |
| Idea | human, light bulb / light bulb, engineer / light bulb, science / science, science / engineer, engineer / hacker, hacker / lumberjack, lumberjack / farmer, farmer / firefighter, firefighter / electrician, electrician / astronaut, astronaut / warrior, warrior / butcher, butcher / doctor, doctor / pilot, pilot / baker, baker / sailor, sailor / surfer, surfer / swimmer, swimmer / cyclist, cyclist / knight, knight / monarch, monarch / angler, angler / mailman, mailman / gardener, gardener / philosophy, philosophy / science, philosophy / skier, skier / diver, diver / librarian, librarian / alchemist, alchemist |
| Igloo | house, ice / house, snow / house, cold / house, snowman |
| Internet | computer, computer / wire, computer / computer, web / computer, net |
| Island | volcano, ocean / volcano, sea |
| Ivy | plant, wall / grass, wall |
| Jack-O-Lantern | fire, pumpkin / pumpkin, candle / light, pumpkin / night, pumpkin / ghost, pumpkin / skeleton, pumpkin / skeleton, vegetable / ghost, vegetable / night, vegetable |
| Jam | juice, sugar / fruit, machine / fruit, juice / juice, machine / fruit, heat |
| Jar | jam, container / jam, bottle / glass, jam / jam, bucket |
| Jerky | meat, sun / sun, steak / meat, heat / steak, heat |
| Juice | pressure, fruit / earth, fruit / stone, fruit / fruit, rock / explosion, fruit / water, fruit / pressure, vegetable / stone, vegetable / vegetable, rock / explosion, vegetable / water, vegetable |
| Jupiter | cloud, planet / storm, planet / planet, big / planet, gas / big, Saturn |
| Kaiju | dinosaur, city / dinosaur, skyscraper / dinosaur, legend / dinosaur, story |
| Katana | blade, heat / blade, shuriken / sword, shuriken / blade, ninja / sword, ninja |
| Kite | wind, paper / sky, paper / air, paper |
| Knife | blade, cook / sword, cook |
| Knight | human, armor / warrior, armor / warrior, hero / warrior, horse |
| Lake | water, pond / pond, big / sea, small / pond, pond |
| Lamp | metal, light bulb / steel, light bulb |
| Land | soil, soil / big, soil / earth, earth / earth, stone / small, continent |
| Lasso | cow, rope / horse, rope / pig, rope / wild boar, rope / sheep, rope / goat, rope |
| Lava | fire, earth / earth, heat / earth, liquid |
| Lava Lamp | lava, lamp / fire, lamp / volcano, lamp |
| Lawn | grass, container / house, grass / field, lawn mower / grass, lawn mower |
| Lawn Mower | tool, grass / electricity, scythe / scythe, helicopter / scythe, windmill / field, helicopter / tool, scythe / scythe, machine / grass, machine / scythe, motion |
| Leaf | wind, tree / wind, flower / wind, orchard / wind, forest |
| Leather | blade, cow / blade, pig / blade, sheep / cow, sword / sword, pig / sword, sheep / tool, cow / tool, sheep / tool, pig |
| Legend | time, story / story, big / story, story / story, fairy tale / time, fairy tale |
| Lens | glass, tool / glass, engineer |
| Letter | paper, pencil |
| Librarian | human, library / human, book |
| Library | book, container / house, book |
| Life | electricity, primordial soup / time, primordial soup / storm, primordial soup / volcano, primordial soup / ocean, electricity / sea, electricity / electricity, lake / ocean, lightning / sea, lightning / lake, lightning / primordial soup, lightning |
| Light | electricity, light bulb / electricity, flashlight |
| Light Bulb | glass, electricity / glass, light / light, container |
| Light Sword | light, sword / energy, sword / electricity, sword / sword, space / sword, force knight |
| Lighthouse | ocean, light / sea, light / house, light / beach, light / ocean, spotlight / sea, spotlight / house, spotlight / beach, spotlight |
| Lightning | cloud, electricity / storm, electricity / rain, electricity / energy, storm / energy, cloud / energy, rain / storm, land |
| Lion | animal, cat / blood, cat / cat, big / cat, monarch |
| Liquid | water, idea / water, science / energy, solid |
| Little Alchemy | small, alchemist |
| Livestock | field, animal / farmer, animal / animal, domestication / animal, barn |
| Lizard | stone, animal / animal, rock / stone, egg / egg, rock / dinosaur, small / swamp, animal / swamp, egg / blood, cold |
| Log cabin | wood, house |
| Love | human, human |
| Lumberjack | human, axe / human, chainsaw / human, wood / tree, human |
| Mac and Cheese | cheese, pasta |
| Machine | tool, wheel / tool, tool / boiler, wheel / boiler, tool / boiler, chain / tool, chain / tool, engineer |
| Magic | life, rainbow / life, double rainbow! / energy, wizard / energy, witch |
| Magma | lava, science / volcano, science |
| Mailbox | letter, box / mailman, box / metal, letter / steel, letter / wood, letter / metal, mailman / steel, mailman / wood, mailman |
| Mailman | human, letter / human, newspaper / letter, mailbox |
| Manatee | sea, cow / ocean, cow / fish, cow / cow, lake / cow, river |
| Map | paper, land / paper, hill / mountain, paper / paper, mountain range / paper, continent / ocean, paper / sea, paper / paper, lake / paper, river / paper, city / paper, village |
| Maple Syrup | heat, sap / sugar, sap |
| Mars | rust, planet / desert, planet |
| Marshmallows | campfire, sugar |
| Mayonnaise | egg, oil |
| Meat | tool, livestock / tool, chicken / tool, pig / tool, cow / tool, animal / tool, fish / tool, swordfish / tool, flying fish / tool, shark / tool, frog / axe, livestock / axe, chicken / axe, pig / axe, cow / axe, animal / axe, fish / axe, swordfish / axe, flying fish / axe, shark / axe, frog / livestock, sword / chicken, sword / sword, pig / cow, sword / animal, sword / sword, shark / livestock, butcher / chicken, butcher / pig, butcher / cow, butcher / animal, butcher / fish, butcher / butcher, swordfish / butcher, flying fish / butcher, shark / butcher, frog / fish, net / swordfish, net / shark, net / piranha, net / flying fish, net |
| Medusa | human, snake / snake, legend / snake, story / snake, hero |
| Mercury | planet, small / planet, heat |
| Mermaid | human, fish / fish, legend / fish, magic / swimmer, magic / fish, swimmer |
| Metal | fire, ore / heat, ore / tool, ore |
| Meteor | atmosphere, meteoroid / sky, meteoroid / air, meteoroid / night, meteoroid / day, meteoroid |
| Meteoroid | stone, space / space, rock / space, boulder / stone, solar system / solar system, rock / solar system, boulder / sun, rock / stone, sun / sun, boulder |
| Microscope | glass, bacteria / bacteria, glasses / bacteria, safety glasses / tool, lens / bacteria, lens |
| Milk | farmer, cow / tool, cow / water, cow / farmer, goat / tool, goat / water, goat / cow, liquid / goat, liquid |
| Milk Shake | milk, ice cream / ice cream, yogurt / water, ice cream |
| Mineral | stone, organic matter / rock, organic matter / earth, organic matter / boulder, organic matter / hill, organic matter / mountain, organic matter |
| Minotaur | human, cow / cow, werewolf / cow, story / cow, legend |
| Mirror | glass, metal / glass, steel / glass, wood |
| Mist | water, air / air, steam / air, rain |
| Mold | time, bread / bread, bacteria / bacteria, vegetable / fruit, bacteria / time, vegetable / time, fruit |
| Monarch | human, castle / human, Excalibur |
| Money | paper, gold / diamond, paper / paper, bank |
| Monkey | tree, animal |
| Moon | sky, cheese / sky, planet / sky, stone / night, planet / stone, night / earth, night / cheese, night / sky, time |
| Moon Rover | moon, car / moon, electric car |
| Moss | plant, stone / stone, grass / stone, algae / plant, rock / grass, rock / algae, rock / plant, boulder / grass, boulder / algae, boulder |
| Moth | moon, butterfly / night, butterfly / butterfly, candle / light, butterfly / lamp, butterfly / flashlight, butterfly |
| Motion | wind, science / wind, idea / wind, philosophy / tornado, science / tornado, philosophy / stream, science / stream, philosophy / river, philosophy / river, science |
| Motorcycle | bicycle, machine / steel, bicycle / metal, bicycle / steam engine, bicycle / bicycle, combustion engine |
| Mountain | big, hill / earth, earthquake / earth, hill / hill, hill / earthquake, hill / earth, big |
| Mountain Goat | mountain, goat / goat, mountain range |
| Mountain Range | mountain, mountain / mountain, continent |
| Mouse | cheese, animal / cheese, barn / house, cheese / cheese, farm / cheese, wall |
| Mousetrap | wood, cheese / metal, cheese / steel, cheese / blade, mouse |
| Mud | water, earth / water, soil |
| Mummy | corpse, pyramid / pyramid, fabric / corpse, fabric / human, pyramid |
| Music | flute, musician / sheet music, musician / drum, musician / musician, pan flute |
| Musician | human, flute / human, music / human, sheet music / human, drum / human, pan flute |
| Narwhal | fish, unicorn / ocean, unicorn / sea, unicorn / water, unicorn / unicorn, shark / unicorn, swordfish / unicorn, flying fish |
| Needle | metal, thread / steel, thread / tool, thread |
| Nessie | lake, legend / story, lake / dinosaur, legend / dinosaur, story |
| Nest | tree, bird / bird, hay / egg, hay / tree, egg / bird, grass / egg, grass / bird, house / egg, container |
| Net | angler, rope / fish, rope / swordfish, rope / fishing rod, rope / flying fish, rope |
| Newspaper | paper, paper / paper, story / letter, letter |
| Night | sky, moon / time, day / time, moon / time, twilight |
| Ninja | human, shuriken / human, katana |
| Ninja Turtle | turtle, ninja / turtle, shuriken / turtle, katana |
| Nuts | tree, farmer / tree, domestication / tree, field |
| Oasis | water, desert / desert, puddle / desert, pond / desert, lake / desert, river / desert, stream / tree, desert / desert, palm |
| Obsidian | water, lava / lava, cold / lava, glass |
| Ocean | water, sea / sea, big / tide, container / sea, sea |
| Oil | pressure, sunflower / stone, sunflower / wheel, sunflower / sunflower, windmill |
| Omelette | fire, egg / egg, heat / egg, tool |
| Optical Fiber | wire, light / light, rope / light, internet |
| Orchard | fruit tree, fruit tree / field, fruit tree / tree, fruit tree / farmer, fruit tree / fruit tree, farm / forest, fruit tree / fruit tree, container |
| Ore | hammer, boulder / earth, hammer / hammer, rock / stone, hammer / hammer, hill / mountain, hammer |
| Organic Matter | life, death / life, science / bacteria, death / corpse, science |
| Origami | bird, paper / animal, paper / paper, eagle / paper, seagull / owl, paper / paper, pigeon / cow, paper / horse, paper / dog, paper / paper, cat / paper, lion / paper, hummingbird / chicken, paper / penguin, paper / duck, paper / paper, vulture |
| Ostrich | earth, bird / sand, bird / earth, eagle / sand, eagle / earth, chicken / sand, chicken / bird, big |
| Owl | bird, night / bird, wizard / bird, twilight / bird, moon |
| Oxygen | plant, sun / tree, sun / grass, sun / sun, algae / plant, carbon dioxide / tree, carbon dioxide / grass, carbon dioxide / algae, carbon dioxide |
| Ozone | oxygen, oxygen / electricity, oxygen / electricity, atmosphere / air, electricity |
| Paint | water, rainbow / water, double rainbow! / water, pencil / pottery, rainbow / tool, rainbow / pottery, double rainbow! / tool, double rainbow! / rainbow, liquid / double rainbow!, liquid / pencil, liquid |
| Painter | human, paint / human, canvas / human, painting |
| Painting | canvas, painter / paint, canvas |
| Paleontologist | human, dinosaur / human, fossil / dinosaur, science / fossil, science |
| Palm | tree, beach / island, tree / sand, tree |
| Pan Flute | flute, flute |
| Paper | pressure, wood / water, wood / wood, machine / wood, blender |
| Paper Airplane | airplane, paper |
| Paper Cup | paper, cup |
| Parachute | pilot, fabric / pilot, umbrella / airplane, fabric / airplane, umbrella / sky, umbrella / atmosphere, umbrella |
| Park | forest, city / forest, village / garden, city / garden, village / grass, city / grass, village / field, city / field, village |
| Parrot | bird, pirate / bird, pirate ship / pirate, pigeon / pigeon, pirate ship |
| Pasta | egg, flour |
| Peacock | bird, leaf / bird, double rainbow!, bird, rainbow |
| Peanut Butter | butter, nuts / pressure, nuts |
| Peat | plant, swamp / pressure, swamp / time, swamp / time, grass |
| Pebble | stone, small / earth, small / small, rock |
| Pegasus | bird, horse / sky, horse / bird, unicorn / sky, unicorn |
| Pencil | wood, charcoal / coal, wood |
| Pencil Sharpener | blade, pencil / pencil, blender / sword, pencil |
| Penguin | bird, Antarctica / bird, cold / bird, ice / bird, snow / animal, Antarctica |
| Penicillin | doctor, mold / mold, science / idea, mold / hospital, mold |
| Perfume | water, flower / steam, flower / alcohol, flower / water, rose / steam, rose / alcohol, rose / water, sunflower / steam, sunflower / sunflower, alcohol |
| Petroleum | pressure, fossil / time, fossil / fossil, liquid / water, fossil |
| Philosophy | human, idea / human, story / egg, chicken |
| Phoenix | fire, bird / fire, death / fire, life / fire, egg |
| Picnic | grass, sandwich / sandwich, beach / sandwich, fabric / sandwich, lawn / sandwich, garden |
| Pie | dough, fruit / fruit, cookie dough / dough, meat / fruit, baker / fruit, bakery |
| Pig | mud, livestock / mud, animal / mud, cow |
| Pigeon | bird, letter / bird, city / bird, statue / bird, skyscraper / bird, village |
| Piggy Bank | pig, money / pottery, pig / pig, gold |
| Pilot | human, airplane / human, seaplane |
| Pinocchio | life, wood / golem, story / wood, story |
| Pipe | wood, tobacco / tool, tobacco / tobacco, container |
| Piranha | fish, blood / fish, wolf |
| Pirate | sword, sailor / sailor, pirate ship / gun, sailor / bayonet, sailor |
| Pirate Ship | sailboat, pirate / boat, pirate / steam engine, pirate / pirate, container / house, pirate |
| Pitchfork | tool, hay / metal, hay / steel, hay |
| Pizza | cheese, dough / cheese, bread / cheese, wheel |
| Planet | continent, continent / ocean, continent / earth, space / earth, solar system / earth, sky |
| Plankton | water, life / ocean, life / sea, life / water, bacteria / ocean, bacteria / sea, bacteria |
| Plant | tree, small / water, seed / soil, seed / land, seed / earth, seed / grass, big / algae, land / earth, algae / life, soil / rain, soil |
| Plasma | star, science / sun, science / pressure, heat / heat, heat |
| Platypus | beaver, duck / bird, beaver / beaver, seagull |
| Plow | earth, metal / metal, field / earth, steel / steel, field / earth, wood / wood, field / tool, field |
| Polar Bear | animal, ice / animal, arctic |
| Pollen | dust, plant / wind, plant / dust, flower / wind, flower |
| Pond | water, puddle / puddle, big / lake, small / puddle, puddle |
| Popsicle | ice, juice / cold, juice / wood, juice / snow, juice |
| Post Office | house, mailman / wall, mailman / mailman, container / house, letter / wall, letter / letter, mailman / letter, letter |
| Potato | earth, vegetable |
| Potter | human, pottery / human, clay |
| Pottery | clay, wheel / clay, tool |
| Pressure | air, air / atmosphere, atmosphere / air, atmosphere / geyser, science / ocean, ocean |
| Primordial Soup | lava, ocean / lava, sea / ocean, planet / earth, ocean / sea, planet / earth, sea |
| Printer | paper, computer / newspaper, computer |
| Prism | glass, rainbow / glass, double rainbow! / rainbow, crystal ball / double rainbow!, crystal ball |
| Pterodactyl | air, dinosaur / sky, dinosaur / airplane, dinosaur / bird, dinosaur / dinosaur, eagle / dinosaur, vulture |
| Puddle | water, water / pond, small |
| Pumpkin | field, vegetable / farmer, vegetable / vegetable, jack-o-lantern / plant, jack-o-lantern |
| Pyramid | stone, desert / grave, desert / graveyard, desert / desert, mountain / desert, hill / desert, gravestone / mummy, container |
| Quicksand | sand, swamp |
| Quicksilver | metal, liquid |
| Rabbit | animal, carrot / rabbit, rabbit |
| Rain | cloud, heat / fire, idea / fire, science |
| Rainbow | rain, sun / rain, light / water, light / cloud, light / water, sun / sun, prism / light, prism |
| Rainforest | rain, forest |
| Rat | animal, pirate ship / sailboat, animal / mouse, pirate ship / sailboat, mouse / mouse, city / mouse, skyscraper / mouse, village / mouse, big |
| Recipe | flour, paper / meat, paper / paper, baker / paper, bakery / paper, vegetable / fruit, paper / flour, newspaper / meat, newspaper / newspaper, baker / newspaper, vegetable / newspaper, bakery / newspaper, vegetable / fruit, newspaper / paper, cook |
| Reed | plant, pond / plant, puddle / grass, pond / grass, puddle / swamp, grass / plant, swamp / plant, river / grass, river |
| Reindeer | animal, Santa / livestock, Santa / Christmas tree, animal / livestock, Christmas tree / animal, Christmas stocking |
| Ring | diamond, metal / diamond, gold / diamond, steel / love, gold / diamond, love / metal, love / steel, love / love, gold |
| River | lake, motion / big, stream / water, mountain / rain, mountain / rain, hill |
| Rivulet | puddle, motion / stream, small |
| Robot | life, armor / metal, life / steel, life / metal, golem / steel, golem / golem, armor |
| Robot Vacuum | robot, vacuum cleaner / robot, broom / computer, vacuum cleaner / computer, broom |
| Rock | big, pebble / small, boulder / pebble, pebble / stone, pebble / earth, pebble |
| Rocket | airplane, atmosphere / metal, atmosphere / steel, atmosphere / train, atmosphere / atmosphere, machine / boat, atmosphere / steamboat, atmosphere / atmosphere, car / atmosphere, pirate ship |
| Roe | egg, fish / water, egg / ocean, egg / sea, egg / egg, lake / egg, flying fish |
| Roller Coaster | train, park / car, park / cart, park / wagon, park |
| Rope | thread, thread / wire, thread / tool, wire / tool, sailboat / tool, pirate ship / tool, boat |
| Rose | plant, love / love, flower / blade, flower / plant, blade |
| Ruins | time, castle / time, house / time, village / time, city / time, skyscraper / time, farm / time, hospital |
| Ruler | wood, pencil |
| Rust | air, metal / air, steel / wind, metal / wind, steel / metal, oxygen / steel, oxygen |
| RV | house, car / house, bus |
| Sack | flour, container / salt, container / letter, container |
| Saddle | horse, leather / tool, horse / horse, fabric |
| Safe | metal, money / steel, money / metal, gold / steel, gold / gun, container / gold, container |
| Safety Glasses | tool, glasses / explosion, glasses / engineer, glasses / glasses, bulletproof vest / armor, glasses |
| Sailboat | wind, boat / boat, fabric / wind, steamboat / steamboat, fabric |
| Sailor | human, boat / human, sailboat / human, steamboat / ocean, human / sea, human / human, lake |
| Salt | ocean, sun / sea, sun / fire, ocean / fire, sea / ocean, mineral / sea, mineral |
| Sand | air, stone / wind, stone / air, rock / wind, rock / air, pebble / wind, pebble |
| Sand Castle | sand, castle / beach, castle / desert, castle / dune, castle |
| Sandpaper | sand, paper / sand, fabric |
| Sandstone | stone, sand / sand, rock / earth, sand |
| Sandstorm | storm, sand / tornado, sand / sand, motion / storm, desert / tornado, desert / wind, desert / desert, motion |
| Sandwich | bread, meat / bread, bacon / cheese, bread / bread, vegetable / bread, ham |
| Santa | human, Christmas tree / human, Christmas stocking / Christmas tree, legend / Christmas stocking, legend / Christmas tree, story / story, Christmas stocking |
| Sap | tree, blade |
| Saturn | ring, planet / small, Jupiter |
| Scalpel | blade, doctor / blade, hospital / blade, ambulance / sword, doctor / sword, hospital / sword, ambulance |
| Scarecrow | human, hay / hay, statue / golem, hay / statue, farm / barn, statue / pumpkin, sack / jack-o-lantern, sack / hay, sack |
| Science | human, telescope / human, microscope / human, universe |
| Scissors | blade, blade / sword, sword / blade, sword / blade, paper / sword, paper |
| Scorpion | animal, dune / sand, animal / dune, spider / sand, spider / desert, spider |
| Scuba Tank | air, container / atmosphere, container / oxygen, container |
| Scythe | blade, grass / blade, wheat / grass, sword / wheat, sword / axe, grass / axe, wheat |
| Sea | water, lake / lake, big / ocean, small / lake, lake |
| Seagull | sea, bird / ocean, bird / bird, beach / sea, pigeon / ocean, pigeon / beach, pigeon / sea, rat / ocean, rat / beach, rat |
| Seahorse | ocean, horse / sea, horse / water, horse / fish, horse / horse, lake |
| Seal | sea, dog / ocean, dog / dog, arctic / dog, lake / water, dog |
| Seaplane | sea, airplane / ocean, airplane / airplane, lake / water, airplane |
| Seasickness | boat, sickness / steamboat, sickness / sailboat, sickness / ocean, sickness / sea, sickness / sickness, lake |
| Seaweed | ocean, plant / sea, plant / plant, lake / ocean, grass / sea, grass |
| Seed | plant, pollen / bee, pollen / time, flower |
| Sewing Machine | needle, machine / electricity, needle / robot, needle / thread, machine / electricity, thread / robot, thread |
| Shark | ocean, blood / sea, blood / ocean, wolf / sea wolf / fish, blood / fish, wolf |
| Sheep | livestock, wool / livestock, hill / livestock, land / cloud, livestock / goat, domestication / mountain goat, domestication |
| Sheet Music | paper, music / music, book |
| Shovel | tool, gardner |
| Shuriken | blade, star / sword, star / metal, star / steel, star / blade, ninja |
| Sickness | human, bacteria / swamp, human / human, sickness |
| Silo | wheat, container / house, wheat / wheat, barn / wheat, wall / wheat, farm / wheat, safe / wheat, bank |
| Skateboard | wheel, snowboard / wheel, skier / wheel, ski goggles |
| Skeleton | time, corpse / bone, bone / corpse, bone |
| Ski Goggles | snow, glasses / snow, sunglasses / cold, glasses / cold, sunglasses / glasses, glacier / glacier, sunglasses / glasses, skier / sunglasses, skier |
| Skier | human, ski goggles / human, mountain / human, mountain range |
| Sky | air, cloud / sun, atmosphere / light, atmosphere / moon, sun |
| Skyscraper | sky, house / sky, village / house, big / cloud, house |
| Sleigh | snow, cart / snow, wagon / ice, cart / ice, wagon / cart, arctic / wagon, arctic / Antarctica, cart / Antarctica, wagon |
| Sloth | time, animal / tree, manatee |
| Small | bacteria, philosophy / oxygen, philosophy / carbon dioxide, philosophy / ozone, philosophy / pebble, philosophy / rivulet, philosophy / ant, philosophy / spider, philosophy / bee, philosophy / confetti, philosophy / scorpion, philosophy / seahorse, philosophy |
| Smog | smoke, fog / fog, city / smoke, city / atmosphere, city / air, city |
| Smoke | earth, gas / water, campfire / time, campfire / storm, campfire / fire, plant / fire, grass / fire, tree / fire, wood / fire, air |
| Smoke Signal | campfire, fabric / smoke, fabric / smoke, letter |
| Smoothie | fruit, blender / fruit, ice / fruit, cold |
| Snake | animal, rope / wire, animal / electric eel, land |
| Snow | rain, cold / steam, cold / rain, mountain / rain, mountain range |
| Snow Globe | snow, crystal ball / snowman, crystal ball / snowball, crystal ball / crystal ball, snowmobile / Santa, crystal ball / Christmas tree, crystal ball / Christmas stocking, crystal ball / blizzard, crystal ball / ice, crystal ball / cold, crystal ball / glass, snow / glass, snowman / glass, snowball / glass, snowmobile / glass, Santa / glass, Christmas tree / glass, Christmas stocking / glass, blizzard |
| Snowball | stone, snow / snow, rock / earth, snow / human, snow |
| Snowboard | wood, snow / snow, surfer / wood, ice / ice, surfer / mountain, surfer / surfer, mountain range |
| Snowman | human, snow / snow, carrot / snowball, carrot / coal, snow / coal, snowball / snowball, snowball |
| Snowmobile | snow, motorcycle / snow, car / glacier, motorcycle / car, glacier / ice, motorcycle / ice, car |
| Soap | ash, oil / ash, wax / oil, wax / clay, wax / clay, oil |
| Soda | water, carbon dioxide / juice, carbon dioxide / carbon dioxide, tea |
| Soil | earth, life / earth, organic matter / life, land / land, organic matter |
| Solar Cell | tool, sun / tool, light / sun, machine / sun, electricity / energy, sun |
| Solar System | planet, planet / sun, planet / sun, container / planet, container / Mars, container / Mercury, container / Venus, container / Jupiter, container |
| Solid | earth, idea / earth, science |
| Sound | air, wave / human, wave / wave, wolf / wave, animal |
| Space | sky, star / sun, star / moon, star / night, solar system / sky, solar system |
| Space Station | house, space / space, wall / space, village / house, atmosphere / atmosphere, wall / atmosphere, village |
| Spaceship | airplane, space / metal, space / steel, space / space, pirate ship / boat, space / steamboat, space / car, space / astronaut, container |
| Spaghetti | thread, pasta / wire, pasta / pasta, rope |
| Sphinx | lion, statue / desert, statue / statue, pyramid / stone, lion |
| Spider | animal, thread / animal, web / animal, net |
| Spotlight | light, machine / metal, light / steel, light |
| Sprinkles | sugar, confetti / rainbow, sugar / double rainbow!, sugar / sugar, paint |
| Squirrel | tree, mouse / plant, mouse / mouse, nuts / animal, nuts |
| Star | sky, night / night, telescope / space, telescope / sky, space / night, space / sun, space |
| Starfish | fish, star / sea, star / ocean, star |
| Statue | stone, hammer / hammer, boulder / human, medusa / hacker, medusa / engineer, medusa / lumberjack, medusa / pilot, medusa / sailor, medusa / firefighter, medusa / farmer, medusa / surfer, medusa / astronaut, medusa / butcher, medusa / doctor, medusa / baker, medusa / drunk, medusa / mirror, medusa |
| Steak | meat, BBQ / fire, cow / cow, BBQ / fire, meat |
| Steam | water, heat / water, fire / water, lava / water, gas |
| Steam Engine | steam, machine / steam, wheel / boiler, wheel |
| Steamboat | steam engine, boat / steam engine, sailboat / steam engine, pirate ship / ocean, steam engine / sea, steam engine |
| Steel | metal, charcoal / coal, metal / metal, mineral / ash, metal |
| Steel Wool | steel, wool / metal, wool / wire, wool |
| Stethoscope | tool, doctor / doctor, drum / doctor, sound / tool, sound / tool, hospital |
| Stone | earth, solid / earth, pressure / air, lava |
| Storm | cloud, electricity / electricity, atmosphere / cloud, cloud / rain, wind |
| Story | human, campfire / human, hero |
| Stream | pond, motion / big, rivulet / river, small |
| String Phone | wire, paper cup / thread, paper cup / wire, cup / thread, cup |
| Stun Gun | gun, electricity / electricity, bow / energy, gun / energy, bow / gun, wire |
| Sugar | fire, juice / energy, juice / energy, fruit / fire, fruit / fire, alcohol / energy, alcohol / fire, beer / energy, beer / fire, wine / energy, wine |
| Sun | sky, light / fire, sky / day, space / sky, day / fire, planet / light, planet / light, day |
| Sundial | wheel, sun / wheel, day / wheel, light / tool, sun / tool, day / tool, light / sun, watch / sun, clock / light, watch / clock, light |
| Sunflower | plant, sun / sun, flower |
| Sunglasses | sun, glasses / beach, glasses / day, glasses / sky, glasses / light, glasses |
| Supernova | explosion, star / explosion, sun / explosion, galaxy / explosion, space |
| Surfer | human, wave / human, beach |
| Sushi | fish, seaweed / caviar, seaweed |
| Swamp | mud, grass / mud, tree / algae, lake / algae, pond / lake, reed / pond, reed / tree, lake |
| Sweater | tool, wool / human, wool |
| Swim Goggles | water, glasses / water, sunglasses / glasses, lake / sunglasses, lake / sea, glasses / sea, sunglasses / ocean, glasses / ocean, sunglasses / glasses, river / sunglasses, river |
| Swimmer | water, human / human, swim goggles / human, pond / human, swimming pool |
| Swimming Pool | house, lake / house, swimmer / aquarium, big |
| Sword | blade, wood / metal, blade / steel, blade |
| Swordfish | fish, sword / blade, fish / sword, shark / blade, shark |
| Syringe | doctor, needle / tool, needle |
| Tank | armor, car / gun, car / metal, car / steel, car |
| Tea | water, leaf / human, leaf / leaf, heat |
| Telescope | sky, glass / glass, star / glass, space / glass, moon / glass, planet / glass, Mercury / glass, Mars / glass, Jupiter / glass, Saturn / glass, galaxy / glass, galaxy cluster / glass, universe / glass, supernova |
| Tent | wood, fabric / house, fabric / village, fabric / wall, fabric |
| The One Ring | volcano, ring / ring, magic |
| Thermometer | glass, quicksilver / tool, quicksilver / engineer, quicksilver |
| Thread | tool, cotton / cotton, cotton / wheel, cotton / cotton, machine |
| Tide | ocean, moon / sea, moon / ocean, time / sea, time |
| Time | Unlocked through progression. |
| Titanic | steamboat, iceberg / boat, iceberg / iceberg, legend / steamboat, legend |
| Toast | fire, bread / fire, sandwich / bread, warmth / sandwich, warmth |
| Tobacco | plant, smoke / grass, smoke / fire, plant |
| Tool | metal, human / steel, human / human, wood / stone, human / human, rock / metal, wood / steel, wood / stone, wood / wood, rock |
| Toolbox | tool, container / tool, safe / hammer, container / hammer, box / tool, box / ruler, container / ruler, box / steel wool, container / steel wool, box / chain, box / chain, container |
| Tornado | storm, storm / storm, wind / storm, motion / wind, big / wind, wind / wind, motion |
| Toucan | bird, rainbow / bird, palm / palm, seagull / palm, pigeon / palm, owl / bird, double rainbow! |
| Tractor | farmer, car / field, car / farmer, wagon / field, wagon / cow, car / cow, wagon |
| Train | steel, steam engine / metal, steam engine / steam engine, wheel / steam engine, wagon |
| Trainyard | train, container / train, house / train, wall / train, garage |
| Treasure | pirate, treasure map / pirate ship, treasure map / island, treasure map / sailor, treasure map |
| Treasure Map | pirate, map / map, pirate ship / map, treasure / island, map |
| Tree | plant, big / plant, wood / nest, container |
| Treehouse | tree, house / tree, wood |
| Trojan Horse | wood, horse / horse, machine / horse, statue |
| Tsunami | ocean, earthquake / sea, earthquake / ocean, explosion / sea, explosion / ocean, meteor / sea, meteor |
| Tunnel | engineer, mountain / engineer, mountain range / engineer, hill / train, mountain / train, mountain range / train, hill / mountain, cave / hill, cave / mountain range, cave |
| Turtle | sand, egg / beach, animal / lizard, beach / egg, beach |
| Twilight | day, night / time, day |
| Tyrannosaurus Rex | meat, dinosaur / blood, dinosaur / dinosaur, monarch |
| UFO | rocket, alien / airplane, alien / alien, spaceship / alien, space station / sky, alien / alien, container |
| Umbrella | rain, tool / rain, fabric / storm, fabric / storm, tool |
| Unicorn | horse, legend / rainbow, horse / double rainbow!, horse / horse, story / horse, magic |
| Universe | galaxy cluster, galaxy cluster / space, container / galaxy cluster, container |
| Vacuum Cleaner | electricity, broom / broom, machine |
| Vampire | human, blood / human, vampire / human, bat |
| Vase | plant, pottery / pottery, flower / rose, container / flower, container / pottery, rose / rose, bottle / flower, bottle / plant, bottle |
| Vault | safe, big |
| Vegetable | field, farmer / forest, farmer / plant, farmer / plant, field / plant, domestication |
| Venus | acid rain, planet / planet, smog / volcano, planet |
| Village | house, house / family, family / house, container / bakery, container / house, bakery |
| Vine | rope, rainforest / thread, rainforest / wire, rainforest |
| Vinegar | wine, oxygen / air, wine / time, wine |
| Volcano | lava, mountain / fire, mountain / pressure, mountain / earth, lava / lava, hill / fire, hill / pressure, hill / lava, container |
| Vulture | bird, corpse / corpse, eagle / corpse, hummingbird / corpse, owl / corpse, pigeon / corpse, penguin / chicken, corpse / corpse, duck / bird, desert / desert, eagle / desert, hummingbird / desert, owl / desert, pigeon / desert, penguin / desert, duck |
| Wagon | horse, cart / cart, fabric / house, cart / cart, wall / cow, cart |
| Wall | brick, brick / wood, wood / stone, stone |
| Wand | wood, wizard / sword, wizard / tool, wizard / pencil, wizard |
| Warmth | air, heat / human, heat |
| Warrior | human, sword / human, bow |
| Watch | human, clock / clock, small |
| Water | ice, heat / snow, heat |
| Water Gun | water, gun / gun, stream / gun, puddle |
| Water Lily | pond, flower / flower, puddle / flower, lake / flower, stream |
| Water Pipe | water, pipe |
| Waterfall | mountain, river / river, mountain range / river, hill / mountain, lake / mountain range, lake / lake, hill |
| Wave | ocean, wind / ocean, storm / sea, wind / sea, storm / wind, lake / storm, lake / ocean, hurricane / sea, hurricane / lake, hurricane |
| Wax | bee, beehive / wall, beehive / blade, beehive / sword, beehive / tool, beehive / beehive, beekeeper |
| Web | thread, spider / cotton, spider / fabric, spider / spider, net |
| Werewolf | human, wolf / human, werewolf |
| Wheat | grass, domestication / farmer, grass / field, grass |
| Wheel | tool, motion / stone, motion / metal, motion / steel, motion / water, tool / tool, stream / tool, river |
| Wild Boar | animal, pig / forest, pig / pig, hill |
| Wind | air, motion / atmosphere, motion / air, pressure |
| Wind Turbine | electricity, windmill / windmill, machine / electrician, windmill / electricity, wind |
| Windmill | wind, house / wind, wheel / wind, wheat / wind, flour / wheel, wall |
| Windsurfer | wind, surfer |
| Wine | fruit, alcohol |
| Wire | metal, electricity / steel, electricity / electricity, rope / metal, rope / steel, rope |
| Witch | wizard, broom / human, broom / broom, legend / story, broom / broom, magic / broom, cauldron / cauldron, legend / story, cauldron |
| Wizard | human, magic / human, rainbow / human, double rainbow! / human, unicorn |
| Wolf | moon, animal / animal, dog / forest, dog / blood, dog |
| Wood | tree, tool / tree, axe / tree, chainsaw / tree, sword / tree, lumberjack / tool, forest / axe, forest / forest, chainsaw / forest, lumberjack |
| Woodpecker | bird, wood / tree, bird / bird, forest |
| Wool | tool, sheep / scissors, sheep / blade, sheep |
| Wrapping Paper | paper, gift / Christmas tree, paper / paper, Christmas stocking / paper, Santa |
| Yeti | mountain, story / story, mountain range / glacier, story / Antarctica, story / mountain, legend / mountain range, legend / glacier, legend / Antarctica, legend / |
| Yogurt | milk, bacteria / bacteria, ice cream |
| Zombie | life, corpse / corpse, story / corpse, bacteria / human, zombie |
| Zoo | animal, container / animal, cage |